QMS Software for any ISO Standards
Simplify your ISO 9001, ISO 14001, ISO 27001, ISO/TS 16949, ISO 13485, ISO 17025, ISO 22001, ISO 45001 implementation, documentation, maintenance & audit certification. Meet the requirements and expectations of all interested parties including employees, customers, suppliers, regulatory bodies, and others.
Collaborate Every Step of Your QMS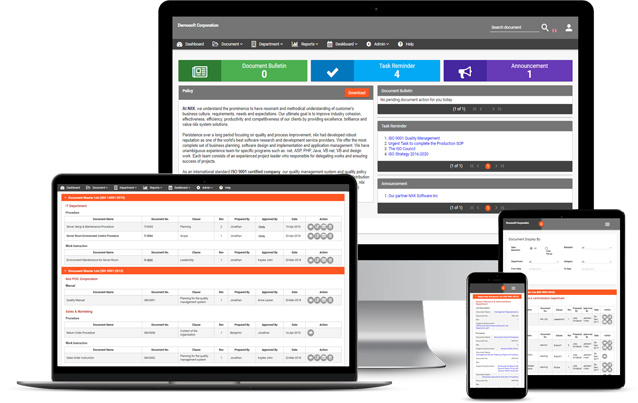 NIIX QMS Software collaborate every step of your document control across all the management systems include QMS, EMS, etc. It is built to be mobile responsive and enable collaboration among employees across the organization conveniently at your finger tip. No more delay even if you were away from office.
Simple, Automated & Compliance
A unique approach to optimize your management system with world-renowned QMS software which goes beyond Quality Management System, equally suit for Occupational Health & Safety, Environment Management System, Food Safety Management System and any ISO Standards. Enables using of one software for all management systems.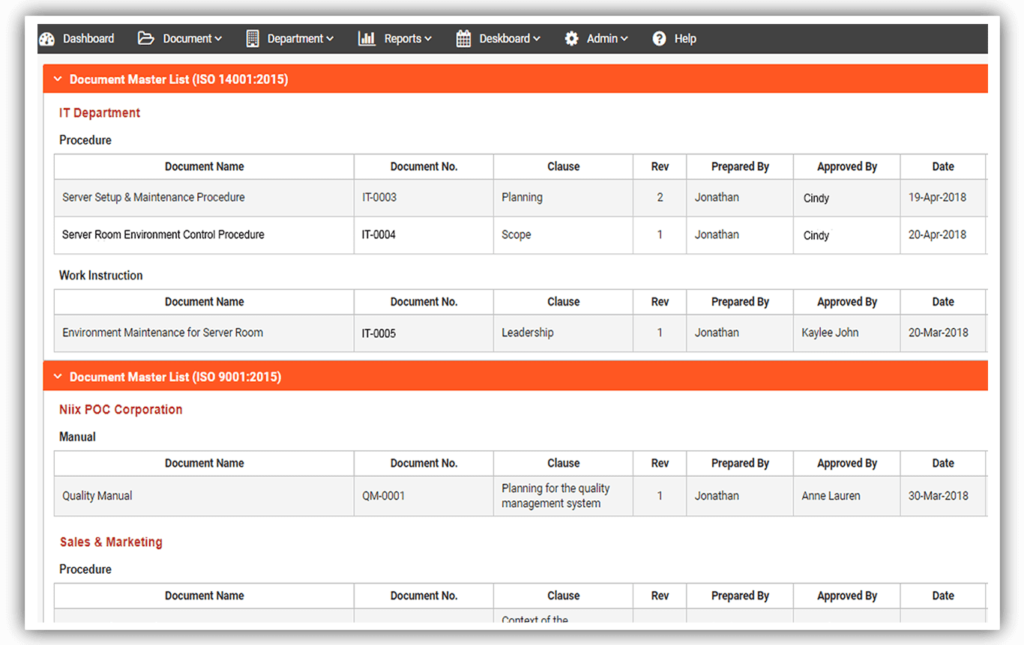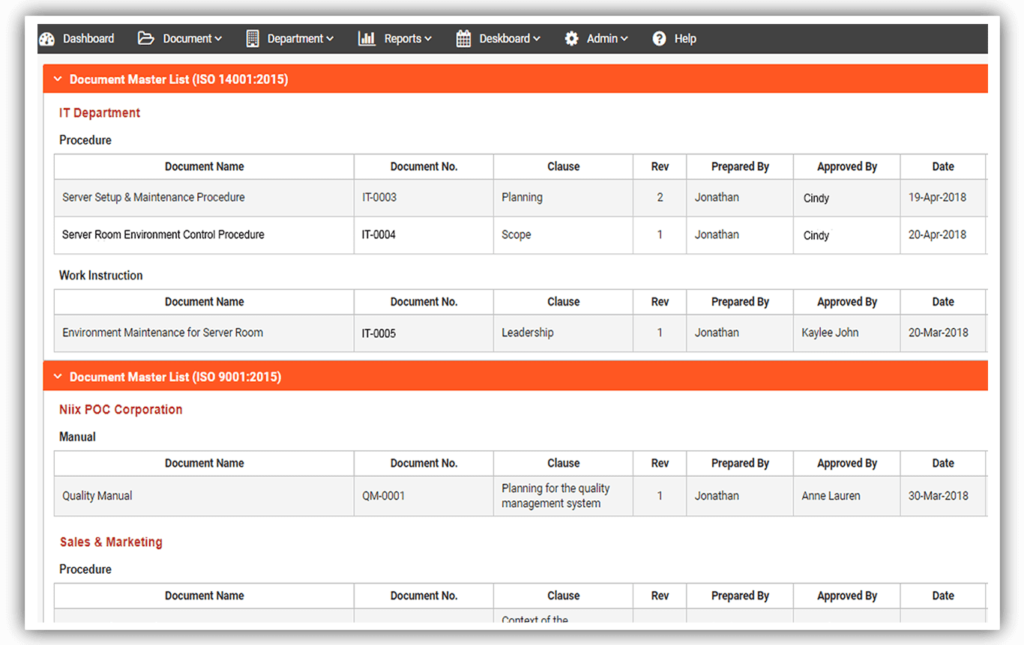 Audit Ready Document Master List
You will be always ready for your ISO audit. QMS, EMS, QHSE or any management system Document Master List will be automatically updated upon document approval with details document name, number, revision, effective date, etc. Obsolete QMS document is automatically archived with proper document change record.

Accelerate Every Document Control
NIIX QMS Software provides automated document control workflow on document creation, review and approval, document publishing, document revise, revision control, obsolete document archiving, task notification, and much more. Tremendously reduce QMS document control time to achieve total QMS benefits.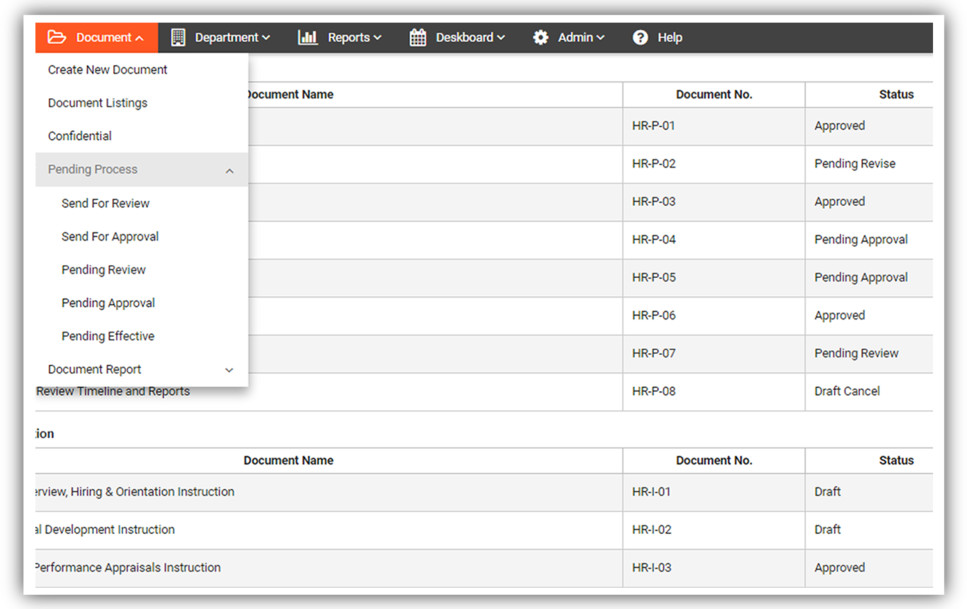 Simple and Fast Document Creation
QMS document in PDF format, or in Microsoft Word, Excel, PowerPoint format can be easily uploaded and automatically converted to uneditable file in NIIX QMS Software. You can attach supporting document in any format such as image, audio, video to QMS manual, procedure, etc which is so simple and hassle free.
Automated Traceable Document Status
Stop guessing whether your QMS documents have been reviewed, approved, pending to be revised, etc. With NIIX QMS Software, you can easily view every document process status at one glance. You can even recall and reassign any of your Quality Manual, SOP, Work Instruction, etc to another reviewer or approver.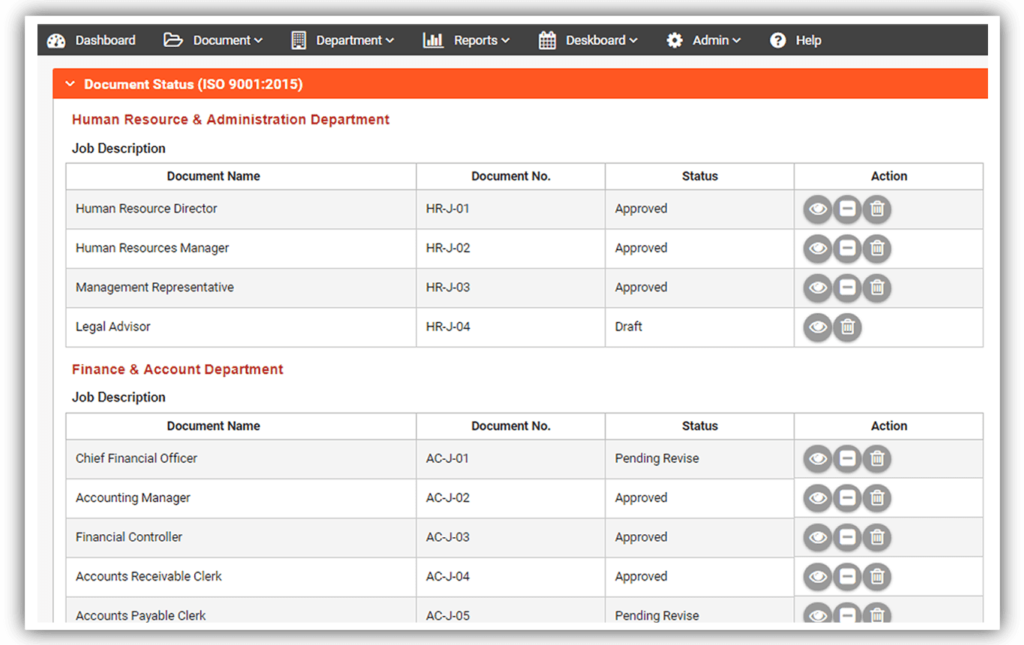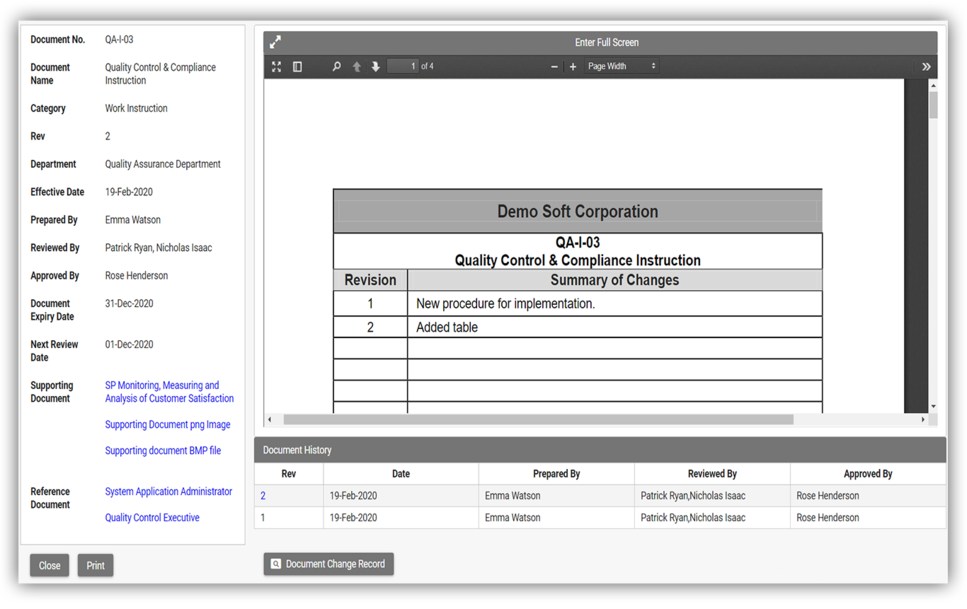 View Everything in Single Page
Easily view approved documents of ISO 9001, ISO 14001, ISO/TS 16949, ISO 27000, ISO 22000, ISO 50001, ISO 13485, ISO 37001, ISO 45001, HACCP, ISO 45001, etc in tablet, desktop and mobile phone. Other information includes document revision number, list of supporting document, cross reference document and more.

Right Document for Right Staff
Flexible user access setting offers a very fine-grained detail in assigning permissions to ensure only the right staff can access to the right document. Conveniently give or remove permission to create, review, approve, revise, print, view, delete document. Easily control what the staff can or cannot do.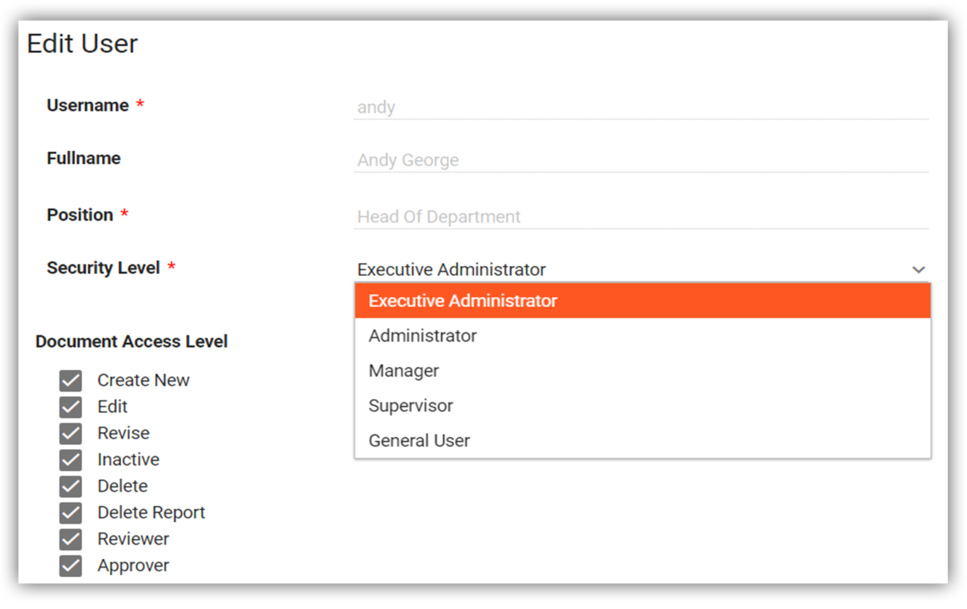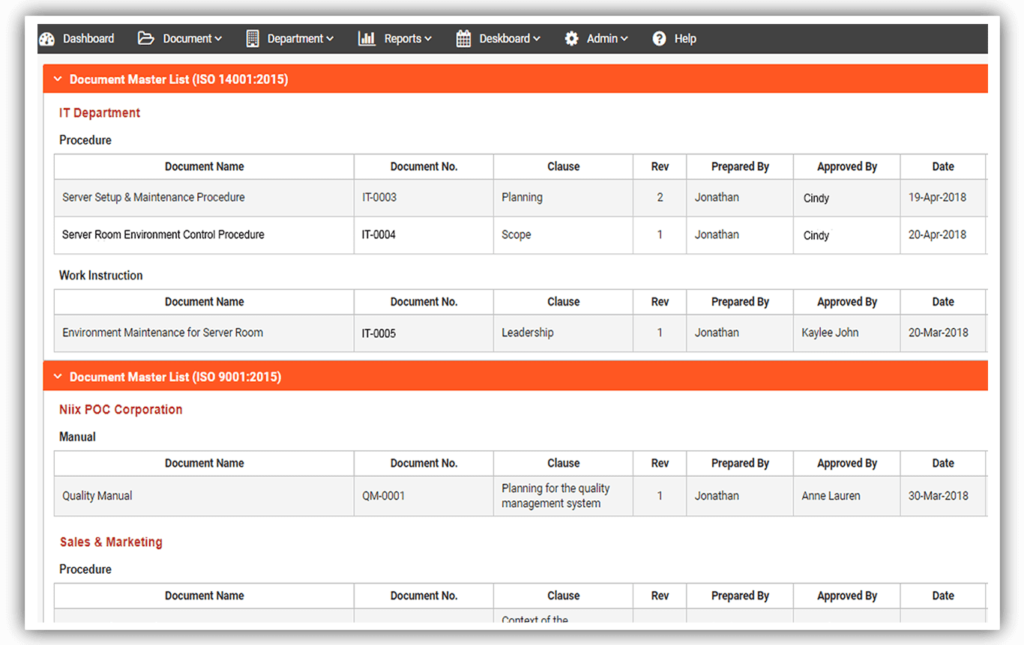 Interrelated Documents at 1 Glance
No more guessing which QMS document is related to which EMS document and vice versa. Document among various standards such as QMS, EMS, QHSE can be easily integrated, managed and viewed. With NIIX QMS Software, cross reference documents like manual, procedure, works instruction, etc is just a click away.

Complete Activity Report for QMS
Monitoring QMS document report is so easy with various selections of report types. Information includes how many QMS document have been created, review, approved within a selected period. Who has read and printed which SOP, Manual, etc. It makes the Management Review Meeting more transparent and productive.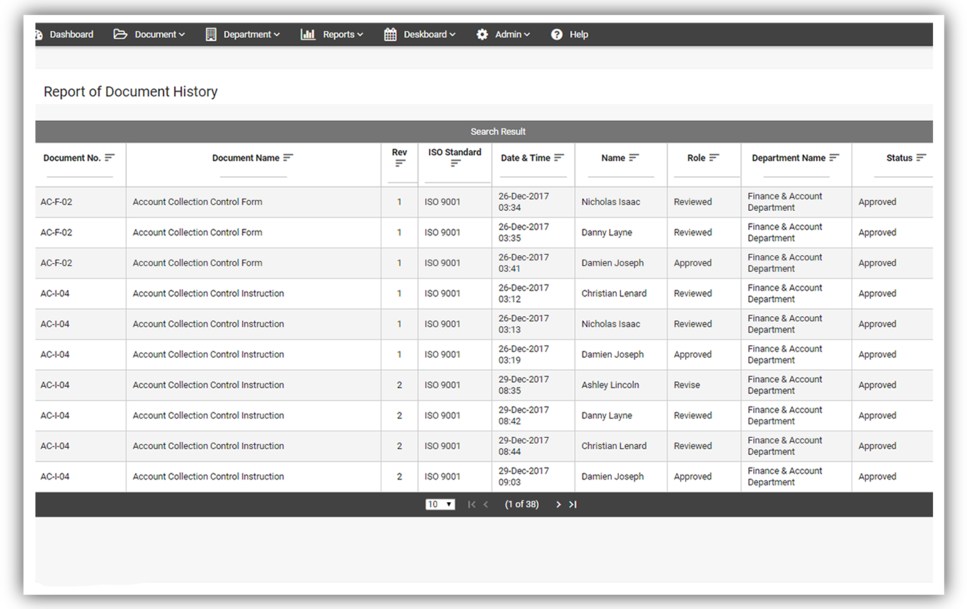 BENEFIT OF NIIX QMS SOFTWARE
A Robust, Time Saving, Operative, Efficient, Collaborative, Automated, User Friendly and Audit Ready Quality Management System Software.

QMS audit compliance, well recognized and recommended by ISO consultant and auditor.

Affordable & Cost Effective
Flexibly choose subscription or purchased package according to your own preferences.

Centralized & Cloud based
Provide centralize, collaborative, consistent document repository at anywhere, any time.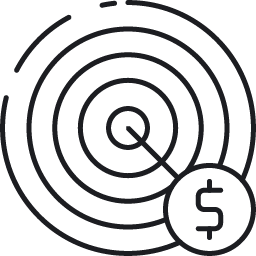 Automated document approval workflows, task notifications, document archiving and more.

Digitalize document control for Quality, Safety, Environment and any management systems.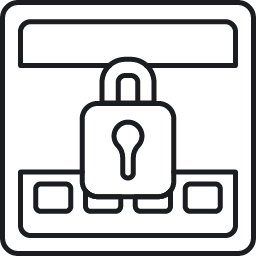 100% accurate, reliable, hassle free document control, change record & versioning control.

User Friendly & Supportive
Comprehensive yet user friendly feature with supportive team to assist you as needed.

Daily backup, encrypted and protected access with full document activity history.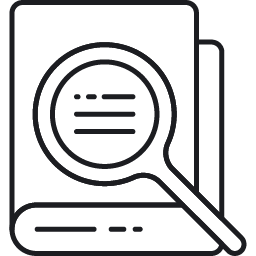 Engagement & Productivity
Cultivate employee engagement in QMS and improve overall organization productivity.

Cloud-based subscription ensure seamless uptime, business continuity, disaster recovery.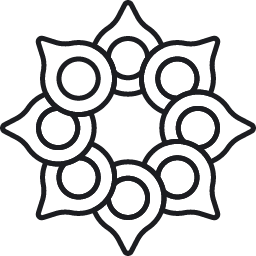 QMS documents processes are real time, up-to-date, accessibl and always ISO audit ready.

Complete more processes will less hours, resources and cost, enable reinvest cost saving.
100% SATISFIED! 30-DAY MONEY-BACK GUARANTEE
We want you to be satisfied. It is essentially a simple guarantee we give to you. We're offering a 30 days risk-free money back guarantee if you are not satisfied with NIIX for whatever reason.